Join Us
Join the Zia Singers!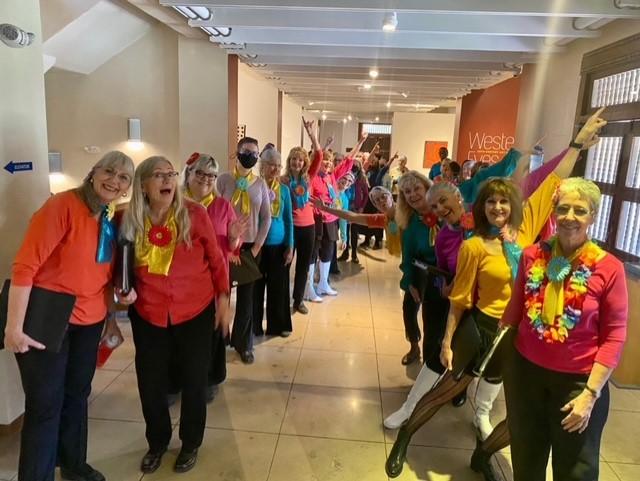 Audition Information:

Auditions for Spring 2024 will be held on Tuesday, February 6. Auditioners need to prepare a song of their choice and one chosen by the Zia Singers. Contact Carmen Shupe at [email protected] to discuss these choices. Other audition times can also be arranged with Carmen if there is a conflict on that date.

The Zia Singers is an all-women chorus that rehearses every Tuesday morning from 9:30 am-11:45 am. We perform two annual concert series, one in January and one in May or June.
To join our chorus, please contact the Chorus President, Carmen Shupe, by phone at 206-324-0721 or email her at [email protected].
Mission Statement:

Zia Singers promote joy by championing the love and craft of women's choral music through public performances, education and outreach.
A community chorus of women of all ages and a wide range of prior musical experience, the Zia Singers
fosters creative expression through singing;

strives for musical excellence through the process of continued learning;

inspires interest in the choral arts through performance;

builds bridges and camaraderie among its members, audiences, and the public.
History:

Zia Singers, a Santa Fe women's choral ensemble, originated as a group of voice students of singer and voice teacher Marilyn Barnes. Founded in 1993, that first group of women met in Marilyn's living room to sing just for the love of making music together. The choir continued under the direction of Kenneth Knight from 2003 through 2011, when conductor Dr. Karen Marrolli took the baton. After her departure in 2015, Interim director Cora Harms led us in singing until we hired our new director, Aaron Howe, in January of 2016. Over the years, the group has grown into a performing ensemble of 50 voices, which offers performances twice a year to the public.

Singing for the Love of Music:

Each January, the Zia Singers present a winter program of more serious, traditional or contemporary choral music, and in the spring, a pop/broadway program. Zia Singers give the gift of music to the Santa Fe community through performances at retirement homes and charitable fundraising activities. They have sung with the Men's Camerata, Canticum Novum, New Mexico Gay Men's Chorus & the Rio Rancho Youth Chorus. Additionally, the group invites professional guest soloists and musicians to perform with them.

Zia Singers rehearse on Tuesday mornings, from 9:30 to 11:45 a.m., at St. Bede's Episcopal Church, 550 W San Mateo Rd, Santa Fe, NM 87505. Each member pays annual dues and the cost of their music. We are open to all women, 18 years and up, after a brief, simple audition with our much loved artistic director, Aaron Howe.

In 2016, the Zia Singers applied for and were granted 501c3 non-profit status. We are now eligible to receive tax-deductible donations!
We look forward to meeting you and hearing you!